Jesolo
Relax with a sea view

Twelve rooftop suites with a maritime character and Venetian accents. This time NOA tried its hand at designing rooms in a 4*S hotel by the sea, right in the centre of Jesolo.
For the expansion of the Luxor & Cairo hotel, the architecture studio designed the interiors in a maritime style with Venetian Gothic elements: refined patterns, custom-made furnishings and maximum attention to detail gave life to new suites with a view of the sea, offering guests a dream holiday.
The project involved raising the floor of both buildings that make up the existing hotel, thus obtaining 12 new, spacious rooms with terraces facing the sea, two of which also have access to a rooftop terrace.
For NOA it was crucial to study and devise a new way to decorate these suites in an elegant and contemporary manner. Seeing as the hotel is not far from Venice, the interior designers sought a connection with the city and the bliss of being on the sea's front, where the guests have the chance to enjoy the breath-taking views from the top floor of the hotel, directly overlooking the Adriatic Sea.





Upon entering the suites, something that immediately stands out is the presence of a milled pattern on dark stained oak panels, a design that recalls the decorations above the entrance of the Doge's Palace in Venice, near St. Mark's Square, which is symbol of the city and masterpiece of Venetian Gothic architecture.
Once inside the living spaces you come into contact with another detail: a "tiled carpet" made with decorated tiles in beige tones with an aged character. These break up the linearity of the flooring and add a touch of elegance to the rooms. They are also found on the washbasin tops of the bathrooms, where they have been laid on black painted metal frames, while in the large showers they decorate the main wall, in combination with mosaic floors.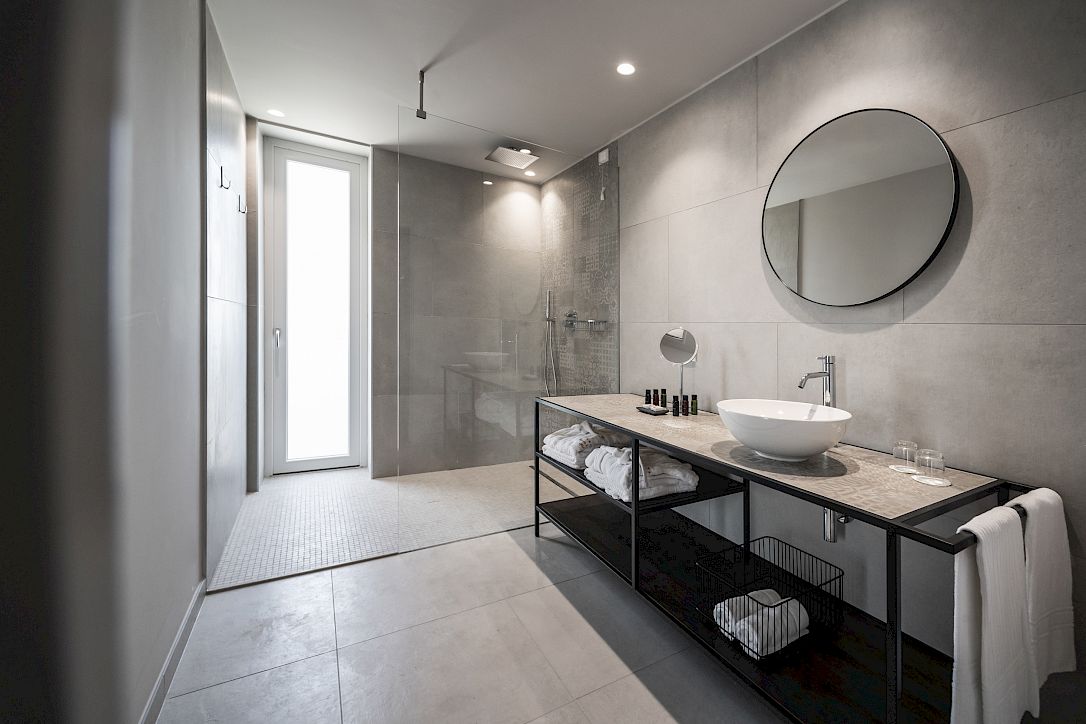 After a sunset aperitif overlooking the sea, you can enter the world of dreams on custom-made king size wooden beds crafted by local artisans who have created hand-worked headboards with classic, elegant lines. They are further enhanced by the warm, soft light emitted by tinted glass lamps.
In the morning, before going down to the beach, you can enjoy moments of peace, reading a book or having breakfast in your room comfortably seated on chairs refurbished with a new, dark varnish and finished with a green leather upholstering, or on the large custom-made sofas with refined patterns and fabrics in neutral and sandy tones.
facts & figures
Location: Lido di Jesolo, Veneto (Italy)
Client: Hotel Luxor & Cairo
Construction start: March 2018